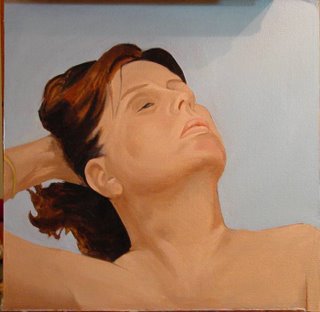 I hesitate to post this work in progress. I have shown it to some of my online artist friends- where it received an icy response. No response at all, really. Other than the pose being a surprise. When ever I show my friends and they say nothing at all, that tells me a lot. I have a lot of work to do.
This is my 2008 self portrait, a work in progress, (WIP).
I have not yet achieved what I am reaching for here- but feel that I am on my way. It will have the whole week on the easel, so expect changes.
Also, don't be surprised if this post disappears here, and on the forum where it is posted too- am feeling a little naked with this one :-)