Another year, another move. This is my fourth, and last studio in the building. Not only am I tired of moving, but the building is filling up. I heard that there are only 11 more spaces available, and all of them are way too small for me. Here is a recap of the time since moving into the Arts Park in June of 2005:
My first studio was up on the very lonely third floor. When I moved in, there was hardly anyone in the whole building. No one on the second floor, just one guy in the basement and one woman in the tower. I would often go a week or two with out seeing a person anywhere. The huge old building was empty and creepy. I stayed in the first studio for 6 months.
Then the tower was offered to me. It was actually smaller than my studio, but felt bigger, with more windows and a private bathroom. I loved it in the tower, but at 13x13, it was too small. Being up on the third floor was lonely and it was hard for some to visit my studio. I stayed in the tower for a year, and when a space was made available to me in the garden level, I was delighted to move downstairs.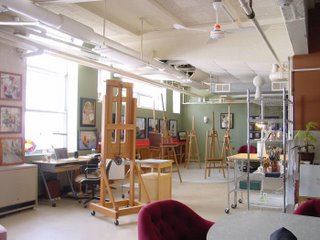 I have been very happy for another whole year in my large garden level studio. I did some really great paintings here. The light is perfect. Everything about it is perfect. But, it is so large and so well placed on the front of the building, I just kept thinking that it needed to be used for classes, that it was too large for just one painter. It is the biggest rentable space in the building, and having so much space was messing with my head. This wonderful studio will now house the Foreign Language Network.
I am moving in across the hall- the room is smaller, (about half the size of my last studio) and the light will need a lot of work, but the space is just exactly the right size. I have a lot to do, yet- moving in. But I have painted one little study here already.
Stop by and say hello when you are in the building- I will be happy to show you around. I will post some more pictures when I get moved in.